Do you own a Kindle, or are you thinking about buying one?  Is the high cost of books for your Kindle causing you stress?  Believe it or not, there are thousands of free books out there for the Kindle.  One of the best sources for free books is Amazon itself.  As of this writing, Amazon has almost 20,000 free books that are in the public domain.  There are also about 80 or so free books that aren't in the public domain. Read more
It's Thanksgiving Day in the United States, the official start of the Holiday Season.  We are currently fighting two wars and we are in the grips of the most severe recession since the Great Depression, so it's easy to lose perspective on how many things we should be thankful for.
The true unemployment rate, which counts unemployed and underemployed people, currently stands at 17.5%.  That means 82.5% of adults enjoy full employment.
3.75% of credit cards holders are at least 60 days past due.  The other 96.25% of credit card holders are current or only 30 days past due.
If you receive Social Security, you will not be getting a Cost of Living Adjustment in 2010.  Since inflation actually declined in 2009, Social Security recipients will have more buying power.
If you have money to spend, this is a great time to find bargains.
Over 9 in 10 mortgage payers are current.
The savings rate has increased after being flat or negative for many years.
The violent crime rate continues to decline in the U.S.
We have not had a major terrorist attack on U.S. soil in over 8 years.
Life expectancy continues to climb.
The stock market is off its all time highs which means this is a great time to invest.
Race relations are improving.  The first black president of the United States could not have been elected without the help of millions of non-black Americans.
At the risk of being redundant, I could keep adding to my list.  Thanksgiving Day is a time to be with friends and family, as well as count our blessings.  If you look at the big picture, as bad as it may seem, the glass is about 80% to 90% full right now.  If you have fallen on hard times, my analogy probably seems a bit skewed.  History tell us, and my personal experience bears this out, that life goes in cycles.  If you are at a low point, things will eventually get better.  If you're riding the apex, you will eventually suffer a setback.  Depending on where you currently are at this point in time, you should be feeling either hope or humility.
Happy Thanksgiving!
SquareTrade, the aftermarket warranty company, issued a report this month stating that one in three laptops will suffer from malfunctions and accidental damage over a three year period.  Netbooks had a projected failure rate 38% higher than premium laptop computers.  Entry level laptop computers were predicted to be 12% more likely to fail than premium tier laptops. Read more
Home prices in the Top 20 Metropolitan Areas continued their upward movement in September, according to the Standard & Poor's Case-Shiller Index.  The big winners were Minneapolis and Detroit with a 1.8% increase over August.  The biggest loser in this current market downturn is Las Vegas where prices are off 55.4% from their peak.  Overall, home prices in the Top 20 Metropolitan Areas were down 29% from their collective peak .
Here's a look at how the individual Top 20 Metropolitan Areas are performing: Read more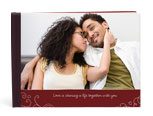 While supplies last.  American Greetings PhotoWorks is offering a free personalized photo book with a retail value of $39.95, shipped absolutely free.  Coupon code Bonnie, which you would use at checkout,  is valid for the first 25,000 users.  Coupon code offer expires on 12/7/2009.